Companies with a huge mobile workforce might find it difficult to manage these employees, who are mostly travelling and working remotely.
How can the companies know if the mobile workforce is being kept in the loop about their latest promotions? How can the employers know if their employees are where they are supposed to be?
This type of working arrangement, however, may become more common going forward as the pandemic has made work-from-home the default.
"I read that by 2025, 80% of the workforce will be mobile and remote. I think that's becoming a trend, especially due to the pandemic. On the other hand, a lot of companies [still] have to deploy people to the ground to service outlets or promote products," says Benny Toh, CEO of mobileOne Technology.
There are technology solutions to address these questions. For instance, Toh created a software and app called mForce to manage the mobile workforce of large FMCG (fast-moving consumer goods) companies in Malaysia six years ago.
Prior to founding mobileOne, he provided business intelligence systems to FMCG companies via Far-East Business Technology Sdn Bhd. In the course of doing that, Toh realised that these companies, which have many promoters, merchandisers or sales representatives on the ground, were struggling to manage this group of mobile employees.
"These employees do not often go to the office and sometimes, they work on weekends. How can the company know if they went to work or attended a required event?" says Toh.
"They do not have a proper system to manage them. Traditionally, they used paper and pen to record [their attendance and other information]. The more advanced ones use WhatsApp to do it. But by doing so, they need more people to input the information sent by the workforce on the ground into the computer system. It's not very efficient."
That led him to create mForce. The mobile app allows the mobile workforce to check in and check out daily, and input data into the system. Location data will also be available so ­employers can check if the employees are where they need to be.
The benefits of having such a tech-enabled system go beyond employee monitoring. It can also be used to facilitate more efficient communication between the company and its mobile workforce, says Toh, thus increasing productivity and efficiency. "Prior to this, companies had a planning tool that allowed managers to inform the promoters where they are supposed to go for the day. But by having a digital mobile workforce platform, this can be communicated through the app, including any potential change in routes for the day. They can also push promotions or marketing materials through the app so the promoter knows how to communicate with customers."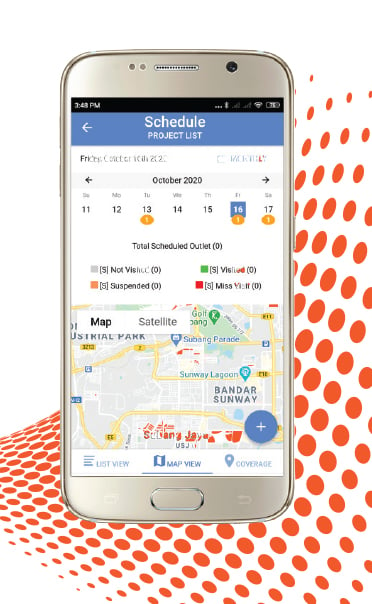 In addition, the mobile and remote workers can use the app to record their activities and log in orders as well. The latter function will allow the company to have real-time information from the ground about stock levels, for instance, or any other matters that require immediate attention.
"If I'm out of stock in one location, this information can be communicated in 10 minutes to the team, who can immediately respond and replenish the stock. This increases productivity and sales opportunities," says Toh, comparing it with the traditional methods where reports may only be filled a few days later.
Most of mobileOne's clients are FMCG companies, such as Faber-Castell, Coca-Cola, Unilever and Red Bull. While some are direct clients, mobileOne partners some other firms that do recruitment work to serve their clients. The company's solutions can go as low as at RM35 per user per month, says Toh.
He is hoping to improve the features of the app by adding artificial intelligence (AI) capabilities going forward. The company is already using AI-powered image recognition tools to help companies accelerate their processes.
"For instance, merchandisers usually have to count the stock displayed on the shelf to figure out when they might run out of it and what is their market share of a particular product. All this is usually done manually. But AI can analyse the stock display, identify the number and what's missing, and compare it with competitors automatically. We can populate that data in the app, shortening the time it takes to complete a task," says Toh.
"The other way we're hoping to use AI is by automating order processing. When the company receives an order, the system can automatically extract the information and put it in the system without human interference."
Source: The Edge.